Are you writing an article or blog post about MindMup? We'd like to help! Here are some nice images that you can use freely, as well as the crucial information and links.
If you need help with fact-checking, additional resources, or anything else to help you write the best article, please get in touch by e-mail at contact@mindmup.com
Free images
Feel free to download the images or link to them directly from your articles. They are served from our CDN.
MindMup Logo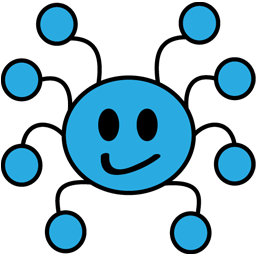 Just the blue spider logo, without any additonal text
Promotional images
Logo with tagline
The blue spider, along with some basic promotional text and a mind map in the background. We use these images for blog headers and app store listings.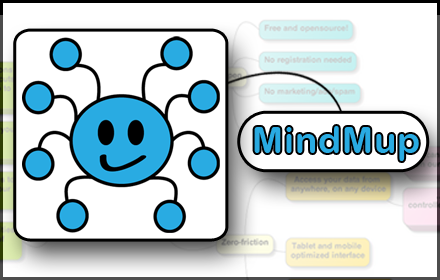 Key facts
Launch

MindMup.com initially launched in January 2013

Cost

MindMup is free to use. Some exports are limited to 100 KB for anonymous users, to prevent abuse of our server resources. MindMup Gold subscription removes size restrictions for exports, and costs 2.99 USD per month for personal usage, or 100 USD per year for organisations.

Copyright and license

The key mind mapping library created for MindMup is opensource, but the web site interface itself is not opensource. MindMup copyright legally belongs to Sauf Pompiers Ltd, a UK-based company the three original authors created to operate Mindmup.com.

Origins

Damjan Vujnovic, David de Florinier and Gojko Adzic started MindMup in January 2013 to create a free and open alternative to commercial mind mapping cloud services, and the three main drivers of the project are creating a frictionless interface, productivity and community-driven development.

User community

MindMup is community driven and we engage with users frequently on social networks to drive future development. Users can vote for new features at mindmup.uservoice.com If you're targeting a particular social network and want to allow readers to better engage with us, consider linking directly to our feeds or pages on Twitter, Facebook and Google+.
What others are saying