MindMup users can now sign in via Microsoft logins. Instead of using a Mindmup password or waiting for one-time authentication keys each time you sign in, MindMup Gold users with a Microsoft account (including Office 365 and Active Directory) can now just click a button and get access to their mind maps.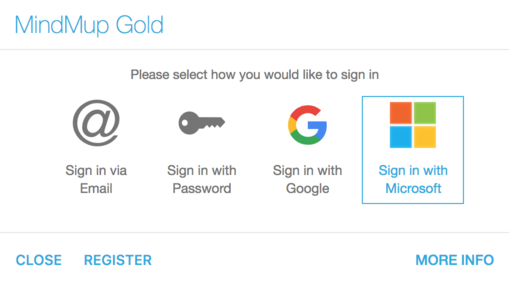 Schools and companies using Office365 (or Azure Active Directory) can now create organisational accounts on MindMup, and make collaborative mind mapping available to their users easily. We're making this available under the same terms as Google Apps organisational accounts at the moment, so for just $100 USD per year, organisations can provide Gold-level access to MindMup to everyone on the same domain, regardless of the number of users. (Please note that due to the recent changes in Google integration we are likely to stop offering unlimited plans in the near future, but any organisations that sign up before we decide on the new plans will keep unlimited access at the same price for at least the next five years).
To register your organisation for MindMup Gold using Microsoft sign-in, go to https://app.mindmup.com/domain.html.
Users can sign in with a Microsoft account, share maps and collaborate by clicking on 'Sign in with Microsoft' at https://app.mindmup.com.